" The organic, tactile nature of materials found in nature gives us a tangible connection with the earth. It is a constant source of comfort I cannot live without "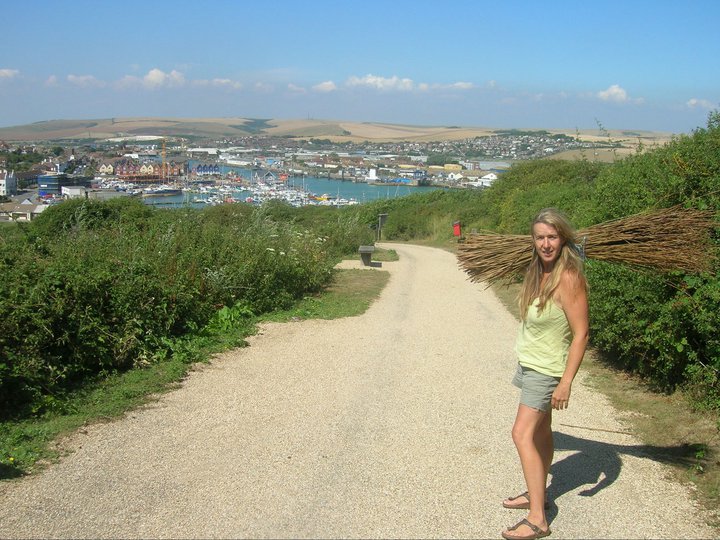 Selected Exhibitons
2018  'Bees' Royal Academy of Arts London – Mayfair Arts Festival
2015 & 2014 Clandon Downs and High Clandon Wine Estates, Cuvee Launch Event
2012 Expo Fine Art Gallery, Terminal 5 Heathrow
2012  Legacy of Sport, Guildford Cathedral
2011  Dorney Court, Eton, Windsor
2012  Art Exhibition to Honour David Weir OBE
2010  City of London Festival, Hampstead
2009  Lloyds TSB 'For the Journey to London 2012' 'Art of Olympic and Paralympic Sports.
2008  'Sculpt It' Exhibition, Winkworth Arboretum-National Trust
2008  Lingwood Samuel Exhibition
2007  Under Milk Wood – Red Biddy Gallery
2006  Red Biddy Gallery
Selected Commissions
Scyther -Mild steel, willow 2021. Natioanl Trust, Runnymede.
Kingfishers -Mild steel, willow 2019 National Trust, Hatchlands Park
Joey -Mild steel, recycled plastics 2018,  100 Years of Remembrance. Party in Park, New Victoria Theatre, Woking Library.
'Surrey Hills'-Mild steel, willow 2014.  Installation, Wolsey Place Shopping Centre, Woking. Owned by Woking Borough Council.
Wokings Willow Cyclists -Mild steel, salvge bicycles, willow 2012. London 2012 Olymoic Games, West Byfleet.
Two Cyclists -Mild steel, salvaged bicycles, willow 2012. Installation, Fire Station, Peacocks Walk, Woking. Owned by Woking Borough Council
Earth Giant -Mild steel, willow 2006 East Sussex County Council, (National Lottery funded community project)
Awards
Inspire Mark 2011/12 – Awarded by LOCOG (London Organising Committee of the Olympic Games and Paralympic Games). Recognising innovative and exceptional projects that are directly inspired by the London 2012 Games.
Sara was born by the sea, on the South Coast of England, to creative parents. Her mother was a ballet dancer and her father was an illustrator and cabinet maker.
As a single mother Sara moved to Surrey in the early 1990's to complete a BA Hons degree at the University of London.  Supporting her family while studying and developing her art she has worked as a cleaner; a gardener; a  key worker for people experiencing homelessness;  a groundsperson for tree surgeons; a learning support assistant for arboriculture students and a speech and language therapy assistant.  These experiences have been integral to her success leading and running many high profile, community projects.
"As a tool for educating people I believe all learning can be embedded into sensory, creative actions. By using natural materials I am certain that environmental awareness can be gained through the tangible involvement with them."
Alongside these roles Sara continued to work as a freelance artist until she was finally able to concentrate full time on Willowtwisters, the business she had created. While a lot of her time is spent teaching others she is now emerging as a serious artist establishing a solid reputation, attracting some high profile public and private commissions and community projects. 
Her major influences include David Nash, Sir Anthony Gormley, Andrew Goldsworthy and Serena de la Hay.