Description
Why are we planting trees at Willows Retreat?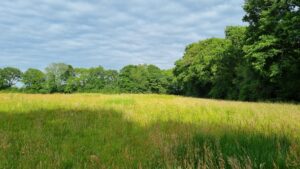 Willows Retreat is a 3.5 acre field bordered with old hedgerows of oak, ash, hazel and holly in
addition to some native willow species too. Whilst it has been grazed for several years, paddocks are
limited in what they offer nature and biodiversity. American biologist, naturalist, and writer Edward
Osborne Wilson writes:
"We should preserve every scrap of biodiversity as priceless while we learn to use it and come to understand
what it means to humanity." (1992, The Diversity of Life)
..and at Willows Retreat, we pledge to employ a system of permaculture to develop the symbiotic
relationships of nature and further the enhancement of biodiversity.
Different willow species such as, alba, purpurea and triandra will be planted in swathes following the natural contours of
the land. As we begin to learn from the land, other areas will gradually be planted with fruit and nut bearing
trees to begin the creation of an edible forest.
Willows Retreat will provide space to grow willow for sculpture and craft, creating a symbiotic environment
where we collaborate with nature and focus on willow as an educational tool. We will explore its life
processes and the creatures for which it provides a habitat – hopefully including the rare Purple Emperor
butterfly which has been observed in increasing numbers just ten miles away on the Knepp estate and whose
caterpillar foodplant is goat willow. Willows Retreat could even become a wildlife corridor for this and
other species.
If you are interested in learning about willow and all its wonderful uses, from basketry, sculpture and craft to
artist charcoal, biochar and root hormone, then we would like to invite you to join us on our willow planting
days.  These days are free, walk-in events, starting at 10am – just turn up with warm clothes and wellies
and stay as long as you like! We will provide a warming fire pit and a delicious cup of veggie soup, tea,
coffee and cake!
Walk-in dates:
TBC – in the meantime if you would like to know more and get involved please email us at
willowtwisters@gmail.com